Ronaldo Staying at Real
Submitted by

isport

on Wed, 02/10/2016 - 12:35
The Portuguese superstar of Real Madrid Cristiano Ronaldo has 2 more years left in his contract with the Spanish club and he has recently stated that he desires to fulfill the entirety of his deal with Real Madrid before deciding on what to do when the contract expires.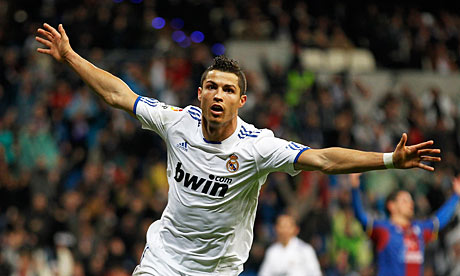 Ronaldo is consistently being questioned about what he is going to do after leaving Real Madrid (and there are many fans of the Spanish club that would even like to see him retiring in the Santiago Bernabeu) but in a recent interview the Portuguese attacker said that he only wants to focus in winning more titles with Real Madrid.
In the previous season of La Liga, Ronaldo managed to score 48 goals, which was more than any other player in the entire Spanish League. He was rewarded by what he accomplished in the preceding campaign, when he was awarded with the Pichichi award a few days ago and it was during this award ceremony that Ronaldo took the chance to talk about his long term plans.
"I want to stay here for two more years, and then we'll see about the future. That's the contract that I've got. Now what I have to do is try to win trophies and the Champions League once again. I've spent seven years in Spain and for me La Liga is the best in the world."
"I also spent six years in England, in Manchester, and this league is wonderful, very competitive, with great players and, for me, it's a privilege to be here and to leave my mark, which has been very good."
Manchester United is one of the clubs that was being rumored as the possible destination of retirement for Ronaldo as supporters of the Premier League would like to see the Portuguese player making a return and Cristiano himself has stated that he is willing on coming back to Old Trafford. Ronaldo would almost certainly turn United into top four contenders, and get them back into the Champions League.
The recent managerial changes at Real Madrid have made it more likely that Ronaldo will stay past the end of his contract, with Zinedine Zidane now tasked with making Real Madrid tick.
In spite of the fact that Ronaldo recently turned 31 years old (fairly elevated age for a football player, especially one who is consistently bursting around the pitch with impressive speed), new coach Zidane recently revealed that he is a huge fan of C. Ronaldo and the French coach continued on by saying that Ronaldo will still continue competing at a high level and try to stay at the same level or attempt to surpass Lionel Messi which has always been considered to be as his rival.
Zizu also stated that he decided to retire at the age of 34 but he believes Ronaldo will go on for longer than him. Cristiano Ronaldo still manages to compete against his younger counterparts and he has barely shown any signs of sluggishness but the Portuguese player has been struggling when it comes scoring against big clubs.
The Portuguese star does manage to score goals on a consistent basis for Real Madrid but when you take a closer look at which clubs he scores against, most of them are when facing off with the clubs that are ranked lower and aren't considered to be top European teams.
Athletic Madrid's Aritz Aduriz has recently voiced his opinion concerning some of the criticism that Ronaldo has been receiving as the Spanish attacker said: "Can Cristiano be questioned? It seems like an insult to me. We can't question him for anything in the world. We're very spoiled with Messi and Ronaldo. Their numbers are astronomical. Of course there are players and strikers who are doing incredible things."
Aritz Aduriz said that fans have placed incredibly high standards on C.Ronaldo and Messi which is indeed true. For the past few years, these 2 players have been playing at a level above everyone else and somehow they still receive criticism for some reason or another. One of the biggest reasons of certain people or fans critique Messi and C.Ronaldo is due to their inability to win big titles with their respective national teams.
However, even at his 31 years of age, C.Ronaldo is still up to par with every other player in the world including even Lionel Messi and the Portuguese is aiming to do more great things before his retirement days arrive.