THOUSANDS WATCH LEICESTER CITY PARADE
Submitted by

isport

on Wed, 05/25/2016 - 15:54
Latest English Premier League winners, Leicester City celebrated their win of the trophy and the whole of the city turned up to celebrate with the team.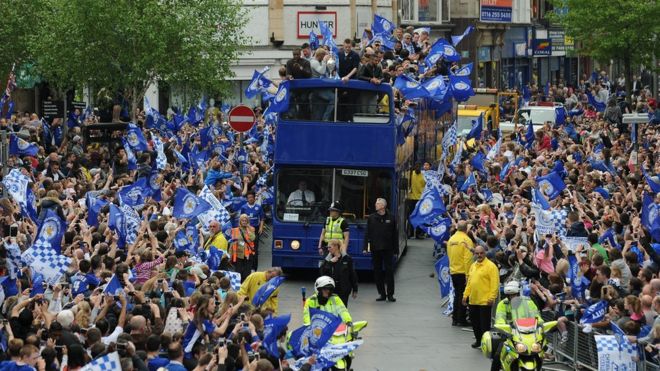 They became champions of England for the first time in their 132-year history on May 2nd when Tottenham Hotspurs failed to beat Chelsea, after putting up a long fight.
More than 240,000 people lined the streets to watch Leicester City parade on open-top buses in celebration of their Premier League title win. The victory parade started at Jubilee Square in the city with the team later taking to the stage at Victoria Park.
Leicester manager Claudio Ranieri said it was "unbelievable" the whole city had seemingly turned up to celebrate.
Ranieri added "I think this [the crowd] is because the team won but also they played with the heart, with the soul and I think the people understand this."
The champions were 5,000-1 to win the title at the start of the season but The Foxes overcame any doubters when they were presented with the trophy after their final home game of the season against Everton on 7 May. For fans looking to make more money whilst the footballers are on holiday, you could do worse than reading this Pokies Paradise guide to online pokies - you never know how rich some of the tips could make you!?
Highlights of the club's season, including goals from striker Jamie Vardy and PFA Player of the Year Riyad Mahrez, as well as memorable quotes from Ranieri, were played on the park's big screens during the evening's celebrations.
Victoria Park was a sea of blue and white as almost a quarter of a million people came out to see the fantastic Foxes parade their trophy. Flags waved furiously and the crowd noise rose to deafening levels as the team arrived on stage. As Vardy's 11 goals in 11 straight games were replayed on the big screen the cheers were as big as when they were actually scored.